Crowheart Butte cuts a striking figure as it rises from the Wind River Valley — a solitary flat-topped mountain looming above the sage, visible for miles in every direction. But as distinguishing characteristics go, the landmark's appearance has nothing on its history.
That lonely flat top hill sits as a marker where more than 150 years ago, a battle was fought, a legend was born and an iconic piece of the American West received its name.
There are differing stories and opinions about what happened at Crowheart Butte, including whether it happened at all, said James Trosper, the director of the High Plains American Indian Research Institute and the Native American Education, Research and Cultural Center at the University of Wyoming. Trosper's mother is an enrolled member of the Eastern Shoshone Tribe and his father is an enrolled member of the Northern Arapaho tribe.
"But I know it happened," he said. "It's because of Crowheart Butte and what happened there that our family exists today."
Trosper's mother, Zedora Enos, was raised on a steady diet of stories about "The Old Man," told by her grandmother Josie Washakie. In one classic legend, "The Old Man" offered himself in place of his people who were dying in a drawn out battle, by challenging another tribe's chief to fight one-on-one instead of letting untold numbers of warriors continue to perish.
Enos didn't realize until she was older that The Old Man was her great-grandfather, the famed Chief Washakie and that battle was where nearby Crowheart Butte got its name and her family began.
The Shoshone people had called the Wind River Valley home for thousands of years. In 1866 the Crow began to encroach on Shoshone land, hunting in areas the Shoshone had used for generations, Trosper said. The Crow were not originally from the area, but they had been pushed West and were eventually given land in a treaty, he said.
Washakie tried to settle the land dispute peacefully, according to Shoshone history, but the Crow killed the emissary he sent, forcing the tribal leader to fight, Trosper said.
The butte marked the battleground. Below its flanks, warriors from the two tribes fought hand-to-hand near the Wind River. The battle is said to have lasted five days. Trosper said he isn't certain of the duration, only that men were dying on both sides.
Recognizing there could be no winners if the fighting continued, Washakie approached Chief Big Robber of the Crow and proposed an alternative — single combat, to the death, chief versus chief. The people whose champion lost would respect the outcome and leave. Big Robber agreed.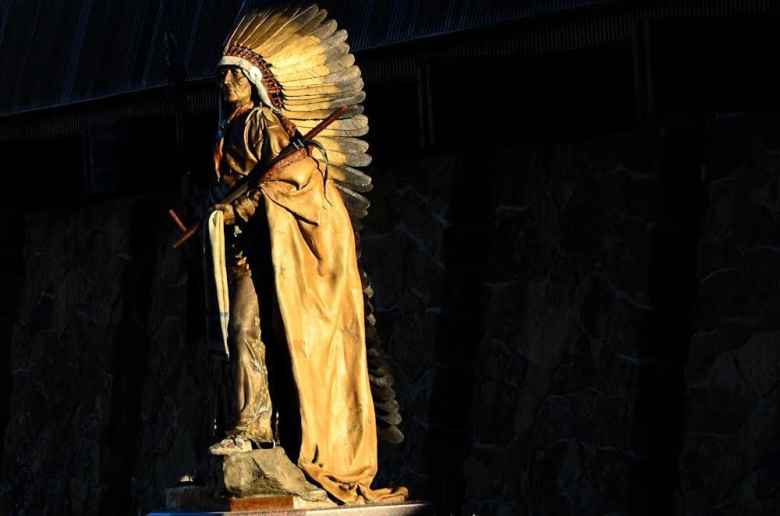 Light hits a statue of Chief Washakie in Fort Washakie. (Matthew Copeland/Wyofile)
Washakie, Trosper said, left the parlay with a promise to Big Robber: "When I win, I'm going to cut out your heart and eat it."
At the appointed time Washakie rode his favorite horse to the designated spot near the butte. The horse was an appaloosa whose name Trosper doesn't know, but which Washakie credited with the victory. He carried a lance, a rawhide shield and the rattle he always used to startle his opponents' horses.
Trosper doesn't know exactly what happened that day, only that Washakie prevailed. He cut out Big Robber's heart, but he did not, despite the myth, eat it, Trosper said. Instead he carried it on his lance when he rode back into the camp.
The Crow people left, as agreed, and also gifted Washakie with a woman. "Crow Woman," as she was known by the Shoshone, became Washakie's fourth wife. They had three children, George, Charlie and Annie.
George married a woman named Josie, who cared for Chief Washakie as he aged. He told her stories of his life, including the famous battle at Crowheart Butte. People would write about him in books, Washakie told her. He wanted his family to know the truth. He wanted her to share the stories so they'd live on in future generations. And that is what she did.
Josie and George had a daughter, Marie, who also had a daughter Zedora. Zedora had a son, James.
And the stories lived on.
When Trosper looks at Crowheart Butte he thinks about Washakie, his great-great-grandfather and what it means to be a leader.
"He stepped forward and said he was losing too many men, 'therefore I'm going to put my life on the line and I will fight you,'" Trosper said.
His decisions were always made based on what he thought was best for the people. That type of leader, the type that values their people above all else, is rare today, Trosper said.
When people suddenly see Crowheart Butte appear on the landscape, Trosper hopes they'll think about what Washakie represents: integrity, bravery and love.
"I hope that people will see what we see," he said.
Never miss a Peaks to Plains. Subscribe to our free weekly newsletter.
His mother also looks at the butte and thinks about The Old Man and the sacrifices he made for his people. She hopes those that see the butte as they drive along Highway 26 between Riverton and Dubois think about the people who have lived in the area for thousands of years.
"I think when people go by, they should know that they just passed, or are headed toward, the reservation," she said. "They should think about the people who live there and have called this area home for thousands of years. They should look around at the valley and the mountains and remember some things are worth fighting for."
The post The battle of Crowheart Butte appeared first on wyomingdigest.com.